Challenges galore again this month at Digiridoo. There's something for everybody, so why don't you check them out. I love challenges! I missed out on them last month, but I'll be catching up in March. You'll get matching participation prizes too so the more challenges you do, the bigger your stash at the end of the month.
Here's what's going on in March:
The Calendar Challenge, hosted by myself. This is a fun little challenge, nothing too complicated. You can either use the template that is supplied or come up with your own calendar design. Everything goes. 
The Scrap Outside the Box challenge, hosted by Marianne. This challenge will stretch you creatively and take you way outside your comfort zone. In March, Marianne challenges you to create an LO without a photo. She has some great inspirational LO's for you to get your creative juices flowing.
There's the Font Challenge, hosted by Pene. This month, Pene has selected the Orial font to make an LO with. Lovely font.
Both ladies posted this fabulous LO as inspiration for their challenges. It's not just great visually, but it's great journaling too!
The Inspiration Challenge is hosted by Sarah. She has picked out a great quote as inspiration this month. As a bonus, she has posted this wordart freebie on her blog, to help you get started.
There's the Layer It Up challenge, hosted by Kelley. This challenge is always very popular. She's posted these ingredients for you to use this month: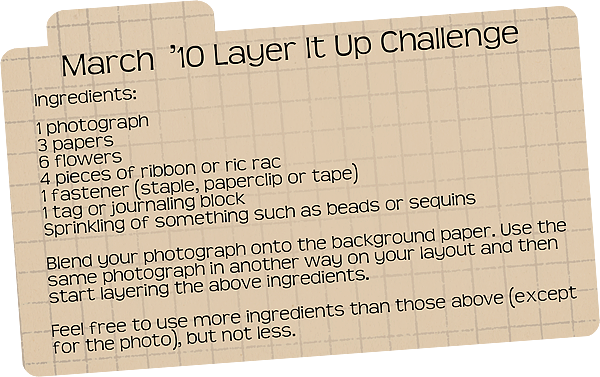 And then there's the Scraplift Challenge, hosted by Katie. Another popular one. Katie's picked out a fabulous LO by March_76.
You won't be running out of inspiration this month :-) Come and join us and show us your work!
Or ... if you would like to run your own challenge, you can do so in the Community Challenge forum. Want to give it a try?